Home Depot Furniture and Decor
This post may contain affiliate links. Click to read our Disclosure Policy . Click to read our Privacy Policy
"This post is sponsored by Sivan Social. All comments and opinions are my own."
Did you know Home Depot has Furniture and Decor?? See more here and don't forget to enter the givaway!
Surprising Things You Can Find at Home Depot: Furniture and Decor!
If you shop Home Depot often, you're probably most often there to find home improvement supplies, or even cleaning and small products.
If you haven't heard, Home Depot is also a great place to find décor and furniture! I love shopping there after the holiday season for great prices on seasonal items. Shop the Pre-Black Friday Sale starting 11/4!
Even better, you can often find certain things at Home Depot that may be unavailable at other department stores. Recently, we were searching for some cute bedding. We were shocked to find some great options at Home Depot on bedding sets, at less than other major retailers. If you are a savvy consumer, you know that it pays to shop around! I was excited to find some great décor at Home Depot! Who knew!
Bedding at Home Depot:
We spotted these great bedding sets. You can ship to store and save on shipping costs, or add more items to your cart for free shipping. This Home Decorators Flannel Comforter Set would be SO cozy for guests staying over this Christmas. Even if you're not expecting family, it will brighten up any bedroom with holiday cheer!
Pre-Black Friday Sale:
As stores are limiting in-store deals and expanding online deals this year due to the pandemic, you can snag some great deals with sales well before the traditional Black Friday shopping week. At Home Depot, save at the Pre Black Friday: Get Up to 35% Off Furniture and Décor!
Sale Dates: 11/4/20 – 11/25/20
Restrictions apply.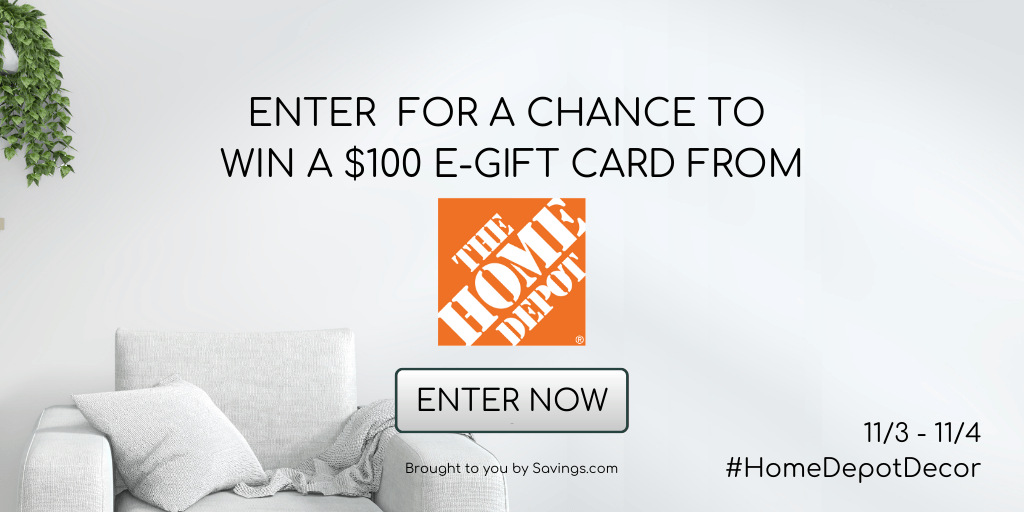 Enter to WIN a E-Gift Card from Home Depot!
And while you're here, be sure to head over to Savings.com to enter the #HomeDepotDecor Giveaway. This is hosted by Savings.com (not Consumer Queen). The giveaway is live now, so be sure to enter with an email you check often. We have seen Consumer Queen readers WIN in the past, so don't miss out on entering. ENTER HERE!
I know this would be a great thing to have right before the holidays! 🙂
Thanks for reading, and be sure to spread the word on the giveaway!
More Info:
Giveaway runs Tuesday, November 3rd at 12:00 AM PT to Wednesday, November 4th at 11:59 PM PT.
Five (5) winners will receive a $100 e-gift card from Home Depot.
Users enter the giveaway by heading to the Home Depot merchant page on Savings.com and submitting their email address on the form on the page.
The winners will be chosen through a lottery drawing and notified on Thursday, November 5th via the email address they used to enter.
See complete Official Rules for entry instructions, full prize descriptions, restrictions and other important details.
Join Our Facebook Groups:
Brown Box Shoppers – Amazon Deals and Coupon Codes
CQ Black Friday Deals & Hot Online Deals
Cottontail Marketplace – The Queen's New Business – Handmade Crafts & More
Consumer Queen Crest Foods Deals (Oklahoma Only)
Consumer Queen Homeland Group (Oklahoma Only)
Frugal Living Tips and Tricks That Wor
Easy Slow Cooker Recipes – Dump and Go Crockpot Meals
Easy Delicious Recipes- Just Like Grandma Used to Make
Air Fryer Recipes – Easy and Delicious
Instant Pot Recipes – Easy and Delicious
CQ Oklahoma Natural & Organic Support Group
If you love to shop online check out some of our other online shopping deals and online coupon codes. Many shopping codes are only available for a limited time so make sure you check them out now!