Old Navy Jeans Sale Live Now + Enter to Win a $100 Gift Card!
This post may contain affiliate links. Click to read our Disclosure Policy . Click to read our Privacy Policy
"This post is sponsored by Sivan Social."
Jeans Sale – Old Navy Jeans are a go-to for many of us this time of year. Get 50% off Jeans and Tees this week!
Old Navy Jeans and Tees Sale!
Right now, save up to 50% off ALL jeans and tees at Old Navy. I am excited to share this sale since we often see sales off of certain jeans. However, if you need those sizes or styles that rarely go on sale, this is a great time to save!
Sale dates and What You Need to Know:
Sale Dates: 8/4/20 – 8/12/20
No coupon code required!
Even Better, this sale coincides with Oklahoma's Tax Free Weekend! You can find your state's tax free weekend (also called tax holiday) online. Be sure to check before you shop, since certain states do not have a sales tax holiday, or have theirs scheduled earlier or later in the year.
Why Shop Old Navy?
I love shopping Old Navy for back to school clothing (and fall apparel) since they have a great variety of basics we need. Tees, dressier tops, and of course jeans and shorts are always easy to find. See my favorite jeans style below.
Enter the #SaveAtOldNavy Giveaway: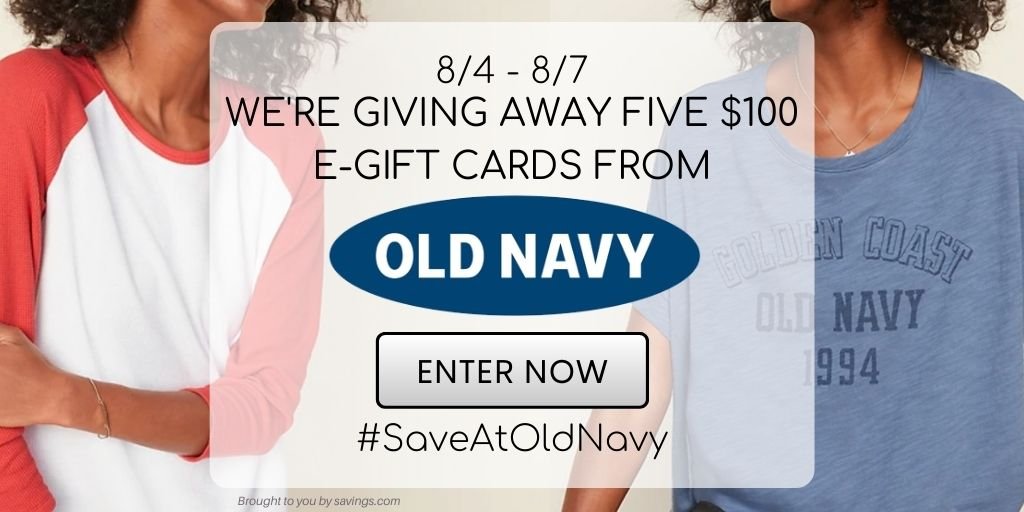 You have to be in it to win, so right now head over and enter the #SaveAtOldNavy sweeps for a chance at a $100 Old Navy e-gift card, sponsored by Savings.com! Contest runs Tuesday, August 4th at 12:00 AM PT to Friday, August 7th at 11:59 PM PT.
We love sharing these sweeps, as we've had at least one reader WIN in the past!! I know a $100 gift card would be extremely helpful to a lot of us right now, so best of luck and be sure to enter before the sweeps are over.
As always, you must enter with a valid email — and make sure it's an email you check often, since the winner is notified through that email address. Winners will be notified via email on Monday, August 10th.
You can find more details and all official rules here. Please note that this giveaway is not hosted by ConsumerQueen.
My Favorite Jeans Sale Pick – Women's Jeans and Crops:
You can shop the entire sale here, but my favorite pick are the women's fitted jeans. I love the Mid-Rise Dark-Wash Power Slim Straight Women's Jeans.
These jeans aren't as fitted as your typical jegging, so they give a little more room for us moms who do want comfort as well as a great silhouette. I like the slim straight jeans since you can easily dress them up, with a cute top and accessories, and dress them more casually with a fun casual graphic tee and slides.
I always choose fitted jeans, jeggings and leggings in the fall just since I love them with boots over them! However, if you like the boot cuts, Old Navy has those too, also 50% off! Check out all the styles here.
Happy Shopping!
See More Savings at Consumer Queen HERE!