QVC Cyber Monday- 5 of Our Favorite Items!
This post may contain affiliate links. Click to read our Disclosure Policy . Click to read our Privacy Policy
"This post is sponsored by Sivan Social. All comments and opinions are my own."
Have you thought of shopping QVC Cyber Monday Deals?? If QVC isn't one of your normal places to online shop, be sure to take a look a at a few deals you can score this week!
QVC Cyber Monday – Wrapping Paper Pack:
This Kringle Express 60-Piece Drawstring Gift Bag Set with Tags is priced at just $17.98 (reg. $24.25), and ships FREE today only!
I love this deal since it has some of the harder to find gift wrap, like decorative draw string bags. Wrapping paper deals can be few and far between online, so this is an idea if you're trying to socially distance and stay out of the stores right now!
House Slippers:
Koolaburra by UGG Faux-Fur Slip-On Slippers – Pomi. We LOVE our UGG Slippers (or house shoes, as they are sometimes called). These fun Koolaburra Slippers come in 4 color varieties. They are priced at $38.86 (Reg. $44.99) and Ship FREE.
My favorite color are the Misty Rose. They are currently available in all sizes!
Make Up Brush Set:
This Sigma Essential Travel Brush Set comes in a handy round case that will fit into a large purse, backpack, or weekender bag. Great gift idea for a college student or someone who commutes to work! $45 and Ships FREE (Reg. $64.50).
QVC Cyber Monday: Fugifilm Instax Camera Bundle!
Gifts for Tweens and Teens can be harder to think of sometimes! We love this Fugifilm Instax Mini 9 Bundle.
I actually ended up purchasing an Instax Camera bundle myself this year. It's a fun gift idea for younger teens, who may not be ready for a phone/camera yet but don't want to miss out on photography and the fun of snapping photos of friends, family, and pets.
This bundle comes with accessories pictured. While this bundle is only available in gray/white color only, it's a good price considering many Instax Bundle deals I've seen are quite a bit more. $59.96.
Cell Phone Charging Pad:
Our last QVC favorite item is this HALO Wireless Charging Pad for Cell Phones. I love the fact you can just put your phone down on the desk in front of you while you work on the computer, and it charges without being actually plugged in!
It does depend on phone case– must have a charging ready phone case for this to work. This is priced at $37.96 and is available in several color options. See additional details/specs for more info. Not designed for iPads and other devices.
Enter the Savings.com #QVCForTheHolidays Giveaway!
If you love shopping QVC Cyber Monday, and shop this site often, be sure to enter the giveaway!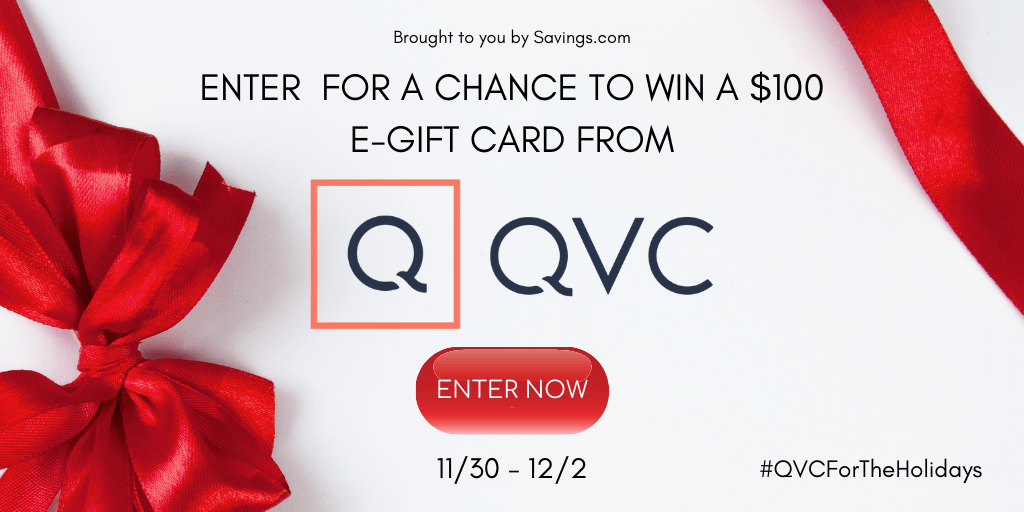 Get a chance at one of 5 QVC Gift cards! Enter here, and see fine print below. This giveaway is not hosted by ConsumerQueen.com.
Giveaway goes Monday, November 30th at 12:00 AM PT to Wednesday, December 2nd at 11:59 PM PT.
Five (5) winners will receive a $100 e-gift card from QVC!
Just enter the giveaway by heading to the QVC merchant page on Savings.com and submitting your email address on the form on the page.
The winners will be chosen through a lottery drawing and notified on Thursday, December 3rd via the email address they used to enter.
See complete Official Rules for entry instructions, full prize descriptions, restrictions and other important details.
Join Our Facebook Groups:
Brown Box Shoppers – Amazon Deals and Coupon Codes
CQ Black Friday Deals & Hot Online Deals
Cottontail Marketplace – For Creators and Small Businesses Only
Consumer Queen Crest Foods Deals (Oklahoma Only)
Consumer Queen Homeland Group (Oklahoma Only)
Frugal Living Tips and Tricks That Work
Easy Slow Cooker Recipes – Dump and Go Crockpot Meals
Easy Delicious Recipes- Just Like Grandma Used to Make
Air Fryer Recipes – Easy and Delicious
Instant Pot Recipes – Easy and Delicious
CQ Oklahoma Natural & Organic Support Group
If you love to shop online check out some of our other online shopping deals and online coupon codes. Many shopping codes are only available for a limited time so make sure you check them out now!
See more from Consumer Queen Here