Win a $45 Sam's Club Membership Card #CommCoffeeAtSams
This post may contain affiliate links. Click to read our Disclosure Policy . Click to read our Privacy Policy
"Disclosure: This Post has been sponsored by Savings.com. However all opinions expressed are my own."
Find Community Coffee at Sam's Club, and enter #Sweeps below for a chance at one of (10) Sam's Club Gift Cards, valued at $45!
Find Community Coffee at Sams!
Community Coffee is a household name in coffee, and one I enjoy myself! Especially this time of year, coffee hits the spot for a busy morning of working online on my computer. Of course, it's also perfect for just relaxing on weekends with a great football game on in the background.
Did you know you can actually find Community Coffee at Sam's Club? Click here to shop available flavors! My personal favorite has always been Breakfast Blend, but there are several varieties I love.
I drink my coffee hot, and don't add any sugar personally. However, I do like having an iced coffee drink now and then, during a busy afternoon. If you're worried about ice watering your coffee down, you can always make it double strength, or make some coffee ice cubes to have ready in the freezer! I could probably talk about coffee for a while! 🙂
Sam's Club Membership Giveaway!
If you love giveaways, this post is for you! I am excited to share the Sam's Club Membership Giveaway, which just takes a few seconds to enter!
Sam's Club offers some great prices on Community Coffee and to promote it they're giving away Sam's membership cards. Enter here to win one of ten $45 memberships.  This contest is hosted by Savings.com.
The contest will run thru Tuesday, September 25th at 11:59 pm ET.  Simply enter your email address on the form at the top of the page.  Winners will be chosen through a lottery drawing and notified on Wednesday (9/26) via the email address they used to enter.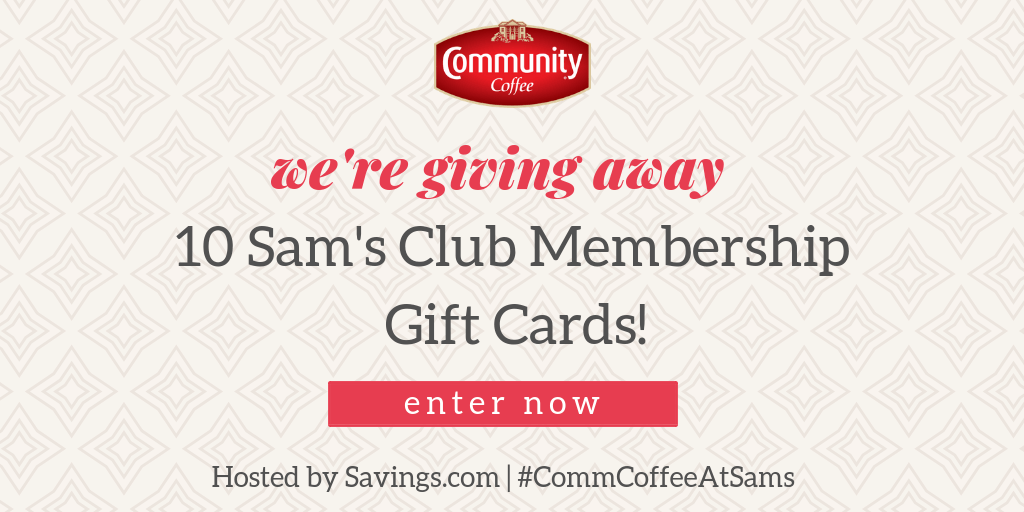 See complete Official Rules for entry instructions, full prize descriptions, restrictions and other important details.  Please refer all questions to Savings.com.