Join Us for a Microsoft Sea of Thieves Twitter Party #SDCSeaofThieves
This post may contain affiliate links. Click to read our Disclosure Policy . Click to read our Privacy Policy
Ahoy Mateys!
Microsoft is introducing their new Sea of Thieves game with a twitter party and you're invited!  Join us to learn all about the new game (and gaming in general) and for your chance to win some awesome prizes.
The #SDCSeaofThieves twitter party will be held on Thursday, March 22nd and starts at 6PM PT/9PM ET. $500 in gift cards will be up for grabs but you'll need to RSVP to be eligible to win.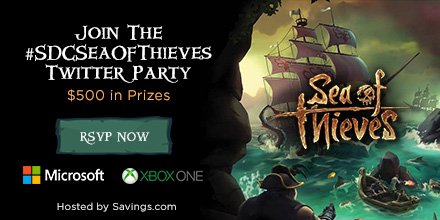 There's More!
Head over here where you can enter to win one of ten $100 gift cards to purchase the newly released Sea of Thieves game.
If you're in the market for a new XBox One X, purchase one here and you'll get the Sea of Thieves game FREE – what a deal!
Not familiar with The Sea of Thieves?
It's an exciting new game set in a world of exotic islands, hidden treasures, and dangers both natural and supernatural. Sea of Thieves immerses you in a new type of multiplayer action where you'll encounter shipwrecks, skirmishes, skeletons and storms.
Don't be a landlubber – join our party and discover your inner Freebooter, plotting your course for hidden riches like a true pirate!