Interview with Agent Carter Hayley Atwell
This post may contain affiliate links. Click to read our Disclosure Policy . Click to read our Privacy Policy
Entertainment & Movies |Red Carpet Events |Disney |Red Carpet Mamas
If you remember my trip to Los Angeles a couple of months ago where I attended the Big Hero 6 Red Carpet Event, live taping of Dancing with the Stars, an Interview with the cast of black-ish as well as Fergie. I also shared this past week some exclusive interviews with Agent Carter writers.
Well I am also excited to tell that we got to take a tour of the actual set where they film Agent Carter and below are some exclusive photos taken on the AGENT CARTER Set as well as an interview with Mrs. Hayley Atwell, Agent Carter herself.
Interview with Hayley Atwell, Agent Carter:
Question:
So what sort of training did you have to do for your role. Because you kicked some butt, so …
Hayley: I trained in theater and so during my drama school education, which I left many years ago, there was a lot of basic training for unarmed combat and how to do stage fighting. To make it look realistic without actually hurting people. So that was in my background and then we have a fantastic stunt coordinator here and his wife is my stunt double. So it was shadowing her, and she would teach me the dance, teach me these kind of dance fight sequences and then I would have to copy her, and we'd shoot it in small bits and make sure we'd nailed each and every shot and it looked convincing and really sold the punches and the kicks to the camera.
It's just basic things like interval training and running and just keeping fit and keeping my stamina up. Nothing too grueling, just heaps of confidence to throw yourself in and make mistakes and day one I kicked one of the stunt guys in the balls, punched an actor in the face, threw another actor off a chair thinking it was a stunt man. So I've made a lot of mistakes to get it looking as sharp as it does. Yeah, it looks great.
Question: I'm just curious, because the fashion and beauty from the hour looks great on you, and I just wonder if you're taking inspiration from that currently. When you're shopping nowadays are you looking for pieces that more reflect this time, or is it more just to look at as a role?
Hayley: I think what it's helped me do is appreciate the detail of clothes that are tailored for you compared to what clothes on the High Street or in malls will do. If you go into the mall and sometimes you pick a nice dress but it's not quite right and you can leave feeling deflated and just a lack of confidence. But when you have well fitting clothes that flatter you it gives you such a lift, and this is a time when women, their bodies were celebrated and ther curves were celebrated and it's such an elegant time. And I think it's certainly made my tastes a little bit more expensive because I find that better quality clothes are more flattering than just kind of the shapeless, lycra stuff that seems to be everywhere.
I think the main this is learning how to wear the clothes rather than the clothes wearing you, and finding out a particular style that works for you that's not on trend or not following a particular fashion. I wear a lot of these beautiful tailored shirts, one of them here at the moment I'll show you. It goes in at the waist and it was perfectly tailored to me, and it goes underneath the crotch and fastens at the bottom, so it is always pulled down so you never get that kind of bunch up feeling that you get when you wear normal shirts.
One of the things I'm definitely doing is I'm going to commission the costumier to make me some because they're such a nice staple, and I'd rather have really beautiful quality staple wardrobe clothes than a fancy on trend type thing. Have a casual wardrobe of well fitting clothes, although expensive initially, in the long run, because it lasts so much longer, it's much cheaper than just buying impulse buys and stuff that you hope is going to fit but then isn't quite right, you know?
Question: Can you walk us through the progression from when they first called you and pitched the idea to when you read the script?
Hayley: Yes. Maybe a year or two after Captain America, Lou contacted me and said he'd be interested in doing a one-shot with me as a one off piece something that they'd done in other films. And it would just be on the Blu-ray, DVD extras of Iron Man and the script was written by Eric Pearson and was sent over to me and I thought it was a lovely kind of epilogue to her journey and seeing a little bit of what happens afterwards and I think it was also generated because there were fans of Peggy from the first film and they'd spoken a little bit and they thought there would be an audience for it.
So we filmed that and then that took about nine days I think, and then I went back to London, did a play, didn't think about it. It was very much an isolated project and there was no talk of anything else. But then when we showed it in Comic Con the response was so wonderful and excitable that Lou said he felt there was a show to be made out of this.
We talked in length of, if the show were to be made, what would we be exploring, why would people be relating to this woman from the 40s, why is she important now? The main thing is having a woman in Hollywood as the central force that's not the … she's not the witch, she's not the ingenue she's not the sex symbol girlfriend. She's complicated, she's capable, she's intelligent, she's vulnerable and she's living this double life and having to juggle so many things at once, which you can all relate to if you work and have a family or you have more than one child, or there are some things going on in your life and having to juggle them.
So we felt that reflected the themes of what she's going through, so although it's- obviously she's a super spy, she's essentially, within herself just having to juggle things and she's having to remain strong all the time. We wanted to explore what psychological and emotional cost of all that was, we wanted to see her times when she does crumble, that she does find it difficult, we want to see her really trying to confide in people but also really scared of confiding because she puts them in danger as well and she puts herself in danger and she's also missing the love of her life, Steve Rogers.
So we felt like there was a lot emotion going on that created quite an interesting character to explore, and it went into motion around August of last year, so over a year now. I was back in London doing a play and they just kind of said, "this is what we want," and we had to wait until May of this year to green light it with ABC and the scripts have been made, scripts have been written and are being written as we speak, so I don't know what we're doing in the next episode yet and I think I find out tomorrow and we film it next week. So it keeps me very present, I have no idea, which is also a really good cop out for when people go, "tell me what it's about and what's going to happen," I go, "I don't know, I really don't know." That keeps it quite exciting.
Agent Carter Set Photos:
Interview with Gigi Melton, Costume Designer
Do you decide how many of each costumes you need when you read the script?
Gigi: "We estimate. It's typically like if you have a stunt thing, it would be one for the after, one for the stunt double, and one to blow apart, or sometimes you need two to blow apart or three, depending on … In this case where we had rigs, we needed one to have rigs in them, and this doesn't need to be blow apart and it's just all the action that was going on."
Gigi: "You got to see this whole dress there with all of her actions. Sometimes we'd make it so she could do all of her kicks then. We have multiples of that dress. As you can see, everything is in lots of multiples for that."
"There's a lot of the skirts done so that she can do the kicks. This is a period at the A-line skirt. Then occasionally, she does wear an authentic outfit. A lot of details goes into all of the design."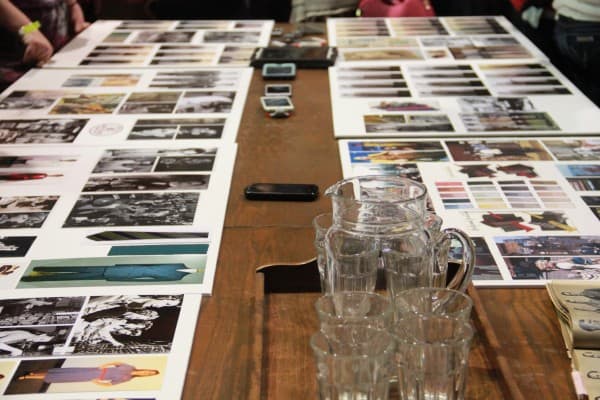 "We do a combination of renting and purchasing, and making. There was lots of texture during that era, something that we really don't have so much right now. You can see that on the board. You really get out there and find who these people are. One of our detectives has a lot more casual and he doesn't wear a tie and he wears the open sweat-knit collar. We do custom-make those shirts for him, but this is an authentic jacket."
"We make all the inside of the clothes so that they're wearable. You can see, this one is still stamped at 1940. All of that stitching comes off this whole different places of tailoring. Then we have things like where we have multiple suits and they're getting shot and four suits aren't enough!"
"When we first get a script, a breakdown is done. It breaks down exactly how many things are in there, so we know where to begin and who's going to need multiples and everything."
About the Show:
It's 1946, and peace has dealt Peggy Carter a serious blow as she finds herself marginalized when the men return home from fighting abroad. Working for the covert SSR (Strategic Scientific Reserve), Peggy must balance doing administrative work and going on secret missions for Howard Stark.
Watch Agent Carter Tuesday nights at 9pm ET/PT on ABC. Follow Agent Carter on Facebook and Twitter.