Shop the Belk Fine Jewelry Sale for Mother's Day!
This post may contain affiliate links. Click to read our Disclosure Policy . Click to read our Privacy Policy
"This post is sponsored by Sivan Social. All comments and opinions are my own."
Save up to 65% at the fine jewelry sale at Belk, just in time for Mother's Day!
If jewelry is your go-to gift for Mother's Day, shop the Belk Fine Jewelry Sale to find some great jewelry pieces! My husband and I love Belk clothing and styles, so we are excited to share the jewelry sale!
Belk Fine Jewelry Sale Picks:
We've create a mini gift guide featuring at our favorite five Belk jewelry items we think would make great Mother's Day gifts.
Get Up To 65% Off Fine Jewelry at Belk.com from 4/26 – 4/29! Restrictions apply.
We love this Belk & Co. Beaded Double Layer Necklace in sterling silver. It's great for shorter necklines that you may be more likely to wear in the warmer weather, and won't get in the way! The beads give a casual vibe which we love for spring and summer. $110 (reg. $275).
If you're looking for an inspirational jewelry piece, the Belk & Co. Sterling Silver Infinity Cross Pendant caught my eye. This necklace has the "infinity" symbol along with a simple sterling silver cross. The 3.3 mm cross is very small, so it's ideal for everyday wear. Do note since the second pendant goes through the first it may flip around. The sale price of this necklace is $40 (reg. $100).
Earrings:
If mom is heading to the beach this summer, these Effy® 1/10 ct. t.w. Diamond Flower Earrings in Sterling Silver will be perfect to match sundresses and beach outfits. The shape of these reminds me a little bit of beautiful tropical Hibiscus blooms! The price point on these is a big higher considering these do contain diamonds and sterling silver. Find them on sale right now for $240 (reg. $600)!
What about a great pair of Onyx Black Studs? These are gorgeous and can TOTALLY be dressed up or down. Pair with a little black dress for an evening out, or a cute straw hat and kimono top, cami and jeans for running errands! We love that these Belk & Co. 14k Yellow Gold 6mm Onyx Stud Earrings are on sale for $160 (Reg. $400). Shop this set here.
Belk Fine Jewelry Sale- Bracelets:
If you're looking for a gold necklace and bracelet, we did spot a few deals on gold jewelry at the Belk Fine Jewelry Sale. This Belk & Co. Stainless Steel 4 Millimeter Foxtail Chain Bracelet with Gold Tone Ion Plating and Push Lock, 9 Inch is priced at $40 (Reg. $100). This chain bracelet is a great layering piece for anyone looking to add to a collection. Available in yellow toned gold shown. Shop this bracelet here.
I hope this post can help you with some inspiration for finding the perfect gift for mom, or the special person in your life you're celebrating, this Mother's Day! Happy Shopping!
Enter the Mother's Day at Belk Giveaway: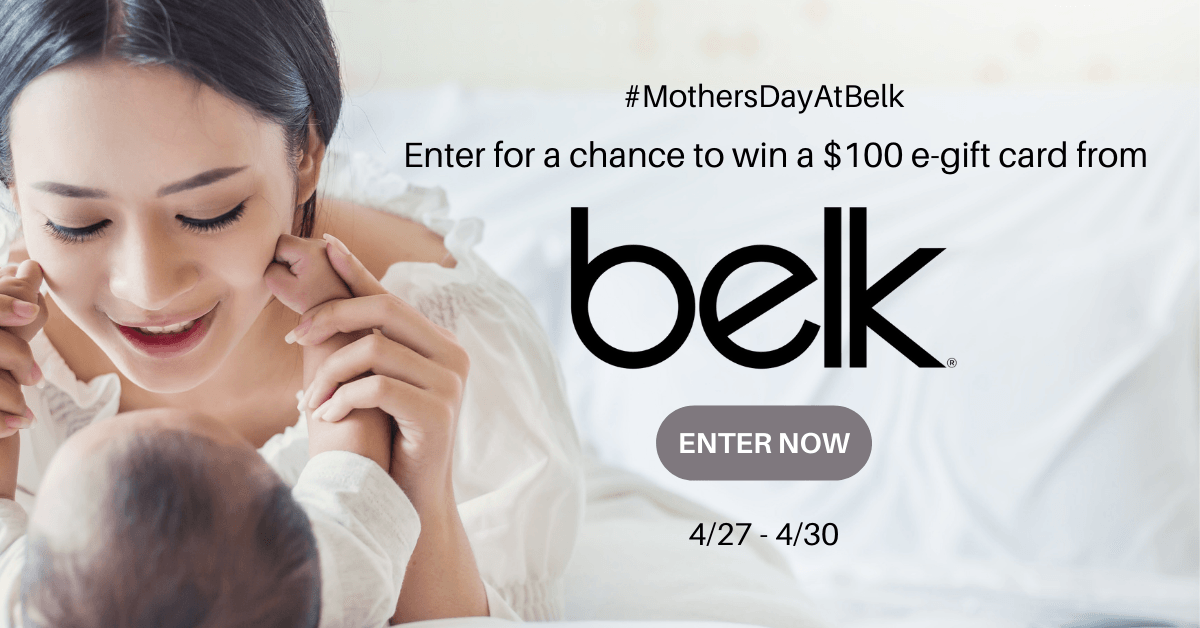 Even better, you can score a chance at winning a $100 e-gift card to spend at Belk, just by entering the #MothersDayatBelk Savings.com Giveaway! Please note this sweepstakes is hosted by Savings.com and not Consumer Queen. Refer any questions to the official rules page.
The Sweepstakes will begin at 12:01:00 a.m. (PT) on April 27, 2021 and end at 11:59:59 p.m. (PT) on April 30, 2021. Remember, use an email you check often since this is how winners are notified.
Join Our Facebook Groups:
Brown Box Shoppers – Amazon Deals and Coupon Codes
CQ Black Friday Deals & Hot Online Deals
Cottontail Marketplace – For Creators and Small Businesses Only
Consumer Queen Crest Foods Deals (Oklahoma Only)
Consumer Queen Homeland Group (Oklahoma Only)
Frugal Living Tips and Tricks That Work
Easy Slow Cooker Recipes – Dump and Go Crockpot Meals
Easy Delicious Recipes- Just Like Grandma Used to Make
Air Fryer Recipes – Easy and Delicious
Instant Pot Recipes – Easy and Delicious
CQ Oklahoma Natural & Organic Support Group
If you love to shop online check out some of our other online shopping deals and online coupon codes. Many shopping codes are only available for a limited time so make sure you check them out now!
See More money-saving posts here!