Spring At Kohl's Giveaway With Savings.Com
This post may contain affiliate links. Click to read our Disclosure Policy . Click to read our Privacy Policy
"This post is sponsored by Savings.com. " See spring savings at Kohl's and enter the Spring At Kohls Giveaway!
Spring At Kohl's
We are excited to share some great deals available at Kohl's right now, and share the Spring At Kohl's Giveaway. Consumer Queen readers have won these Savings.com giveaways in the past, so remember you have to be in it to win!
I know a lot of us could use a gift card for retail purchases right now. It's a difficult time for a all of us, and may be more difficult to find those things you need to buy as stores adapt for the current closures. However, we can see some great sales to encourage you to shop with them! See these current coupon codes below at Kohl's!
Sale Details:
Spring at Kohl's Sale: Our Top Pick:
We love this SONOMA Goods for Life Anti-gravity Chair $74.99 (Regular $119.99). Right now you can use coupon codes to bring the final amount way under the regular price of $119.99. Pay as low as $52.50 per chair!
These chairs are our favorite places to sit during the summer, and you don't need separate ottomans to put your feet up on, so they are ideal for smaller porch and outdoor areas.
PRODUCT FEATURES:
Antigravity position for added comfort
For outdoor use
Powder-coated, rust-resistant steel frame
Fade-resistant fabric
Giveaway!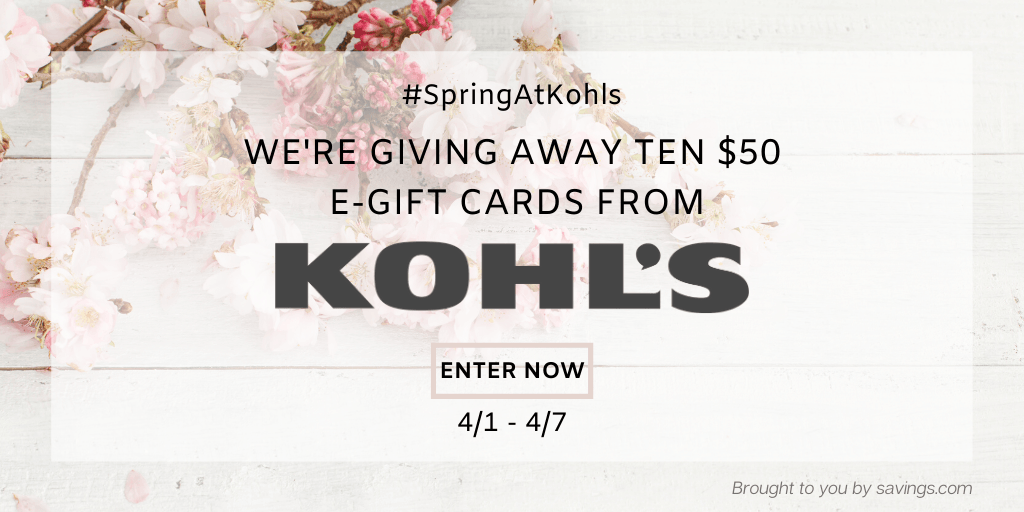 Savings.com is hosting another giveaway, in which our readers can enter to win one of (10) $50 Kohl's e-gift cards. We know this would go a long way toward needed items like apparel, shoes or accessories, so best of luck to all of our readers!!
Remember, use a working email that you check often to enter. See official rules here. This Contest is hosted by Savings.com, not ConsumerQueen, so please direct any questions and concerns to the official rules page. Giveaway starts on Wednesday, April 1st at 12:00 AM PTGiveaway ends on Tuesday, April 7th at 11:59 PM PT.