How to Throw a Back to the Future Party
This post may contain affiliate links. Click to read our Disclosure Policy . Click to read our Privacy Policy
This is a sponsored post written by me on behalf of Universal for IZEA. All opinions are 100% mine.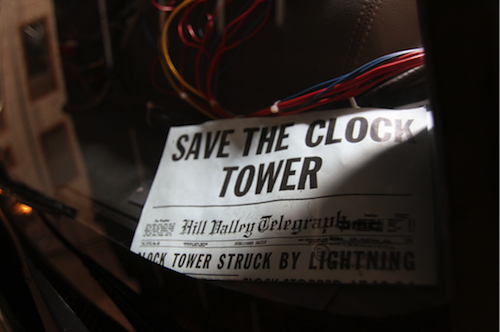 Back to the Future is back!! October 21, 2015 will be the re-release of the Back to the Future series (on physical and digital copy) for their 30th Anniversary. Did you know that Marty actually traveled to October 21, 2015 in the movie?? So cool! The films will also receive a national theatrical re-release to help promote the 30th Anniversary, along with additional live events both from Universal and fans as well.
Most of us grew up watching this movie and now we can introduce this epic movie to our kids! And why not make a party of it! Invite your friends and their families over and throw an awesome Back to the Future movie party.
Wanna know how to throw a Back to the Future Party? Get started with a few fun items. This Back to the Future Soundtrack will be perfect in the background before and after watching the movie. Put up a Poster or two on the walls and place a few Marty McFly action figures around with some Yellow balloons (because what's a party without balloons!) and that's all the decor you need! Yahtzee: Back to the Future board game and Hoverboard and this very colorful THIS appropriately hilarious costume! These would all be great to re-use for Halloween for years to come.
All parties need cupcakes so I decided to come up with a fun and easy Back to the Future theme cupcake. And what is more fun than Tie Dye?!? This Tie Dye Frosting adds lots of color to your party and goes great with Marty McFly's cap. Simply bake a batch of your favorite cupcakes then purchase or make your favorite vanilla buttercream frosting. Divide your frosting into 3 different bowls and choose the 3 colors you'd like to use. Add drops of food coloring to each bowl of frosting until you've gotten your desired color. Don't forget to add more powdered sugar to your frosting if it gets too runny. Prepare a pastry bag fitted with a large piping tip then place 1 scoop of each frosting inside your pastry bag with a spoon and alternate until your bag is full. Simply pipe on your frosting in a swirl and you'll get a really cool, really fun frosting!
So now we're set with plenty ideas for a Back to the Future party! Are you excited about this re-release, too? If so, let us know by commenting below! And then check out the Back to the Future Facebook page and Twitter page to find out more info about the re-release and keep up with all that's happening!