Chicken Enchiladas with Poblano Cream Sauce
This post may contain affiliate links. Click to read our Disclosure Policy . Click to read our Privacy Policy
If you love Chicken Enchiladas for a family weeknight meal, don't miss this delicious recipe!
Chicken Enchiladas with Poblano Cream Sauce
Who doesn't love a delicious plate of Chicken Enchiladas?  I know that I do! It's usually what I end up ordering when we go out for Mexican Cuisine. I love just about every type of enchilada dish, including the spicy Hatch Green Chile enchiladas we can get in the summer months.
While it's definitely easier to order enchiladas at a restaurant, sometimes that's not really an option. Many of us are cooking at home due to nutritional reasons, saving money, or just the fact that restaurants are often out of the way and reserved for special occasions! The flavors of these Enchiladas are absolutely fabulous and worth the work. You won't be missing your restaurant meal with this recipe.
Ways to Serve:
These enchiladas do have a cream sauce, so if you're watching sodium or calories, they would pair best with a lighter side like salad. These enchiladas don't need a lot of side dishes– they are filling and of course family-friendly! We usually serve with chips and salsa. If you prefer a salad here are a couple of my favorites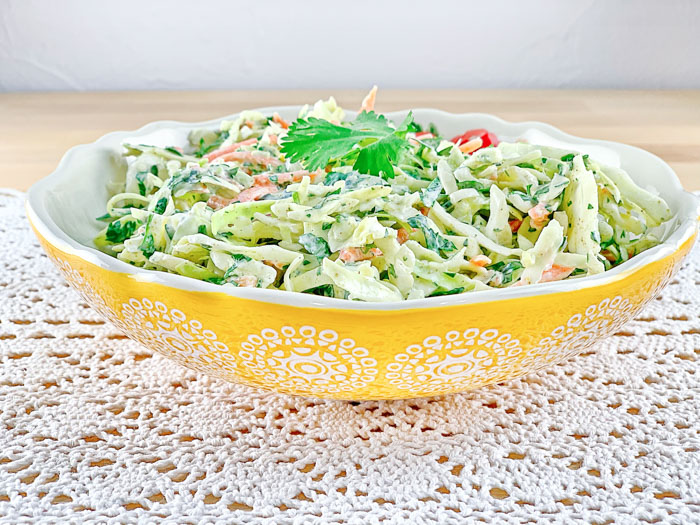 Other options for these Chicken Enchiladas are to serve with Mexican rice and a little homemade guacamole.
Chicken Enchiladas with Poblano Cream Sauce
Print your recipe here and be sure to note that there are two parts to this recipe. You will prep your poblano and jalapeno peppers first, and then make the cream sauce. After these ingredients are ready to go, it's time to assemble your enchiladas.
Yield: 12
Chicken Enchiladas with Poblano Cream Sauce
Try these Chicken Enchiladas for a restaurant quality meal at home!
Ingredients
Sauce
2 Poblano Peppers
1 Jalapeno Pepper (optional)
2 Tblsp. (1/4 stick) Unsalted Butter
3/4 c. chopped Onion (about half an onion)
1 c. milk
4 oz (1/2 brick) Cream Cheese
For the Enchiladas:
8 - 6 in (small fajita) Flour Tortillas
Meat from 1 Rotisserie Chicken removed from bone and chopped to bite size pieces
2 1/2 c. grated Monterey Jack Cheese
Fresh Cilantro, For Garnish
Instructions
For the Peppers:
Char the peppers. (I do mine on the gas grill so my kitchen doesn't smell like charred peppers. Many people use the open flame of a gas stove burner. Peppers can also be charred in the oven. You're looking for the pepper skin to be black and have a blistered appearance.)
Once charred, place the peppers in a bowl covered with plastic wrap and let sit for a few minutes.
Remove and wipe skin off using a paper towel.
Remove the stem, seeds and membranes then dice the peppers on a cutting board.
Dice onion, divide. One half will be used for enchiladas (optional).
Melt the butter in a large skillet with 2 in. sides. Add the onions and cook until translucent. (Optional: You can use less on onions if preferred).
Next, add the peppers and cook an additional 1-2 minutes.
Add the milk and cream cheese and stir to melt the cream cheese.
Simmer mixture over medium heat until it thickens (about 4-6 minutes).
Mixture can now either be cooled and processed in a blender OR you can use an immersion blender directly in the skillet you used to heat the mixture. Either way you're looking for creamy sauce consistency. Add Salt and Pepper to taste.
While sauce is simmering, shred chicken on a large cutting board or into a bowl.
Spray a 9x13 cooking dish with cooking spray and preheat oven to 350 degrees F.
For the Enchiladas:
Fill each tortilla with a little of the remaining onion, Monterey Jack cheese and chicken. Reserve some cheese to top enchilada's.
Tightly roll filled tortillas and transfer to prepared pan. Be sure to put the seam side down. Note: Should be a pretty snug fit.
Pour prepared sauce over the enchilada's and top with the remaining cheese.
Cover with foil and bake for 25-30 minutes.
Garnish with fresh cilantro and serve with salsa, guacamole, or fresh pico!
Notes
Onion is optional. If preferred, you can replace with 1 Tbsp Freshly chopped garlic.
Nutrition Information:
Yield:
12
Serving Size:
1
Amount Per Serving:
Calories:

316
Total Fat:

18g
Saturated Fat:

9g
Trans Fat:

0g
Unsaturated Fat:

7g
Cholesterol:

71mg
Sodium:

451mg
Carbohydrates:

17g
Fiber:

1g
Sugar:

1g
Protein:

21g
Enjoy!
Brown Box Shoppers – Amazon Deals and Coupon Codes
CQ Black Friday Deals & Hot Online Deals
Cottontail Marketplace – The Queen's New Business – Handmade Crafts & More
Consumer Queen Crest Foods Deals (Oklahoma Only)
Consumer Queen Homeland Group (Oklahoma Only)
Frugal Living Tips and Tricks That Wor
Easy Slow Cooker Recipes – Dump and Go Crockpot Meals
Easy Delicious Recipes- Just Like Grandma Used to Make
Air Fryer Recipes – Easy and Delicious
Instant Pot Recipes – Easy and Delicious
CQ Oklahoma Natural & Organic Support Group
Brown Box Shoppers – Amazon Deals and Coupon Codes
CQ Black Friday Deals & Hot Online Deals
Cottontail Marketplace – The Queen's New Business – Handmade Crafts & More
Consumer Queen Crest Foods Deals (Oklahoma Only)
Consumer Queen Homeland Group (Oklahoma Only)
Frugal Living Tips and Tricks That Wor
Easy Slow Cooker Recipes – Dump and Go Crockpot Meals
Easy Delicious Recipes- Just Like Grandma Used to Make
Air Fryer Recipes – Easy and Delicious
Instant Pot Recipes – Easy and Delicious