CQ Review: Dell Inspirion 1525 Laptop!
This post may contain affiliate links. Click to read our Disclosure Policy . Click to read our Privacy Policy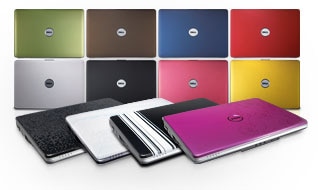 I recently got the chance to review the Dell Inspirion 1525 Laptop in Green. Most of you know I already have a Mac and I love it, although it is not able to do everything I need.When I received the Dell I was not sure how much I would like it since I was so used to my Mac. Well to my surprise I loved the larger screen and I love the way the keyboard is set up. With my Mac I was always having a hard time fumbling with the keys and miss typing words. This is a huge deal to me because I am always in a hurry. I also love how quiet it is.
Another key factor was with my Mac certain sites would not work. Especially printable coupon sites. You guys know that is just not acceptable with me LOL. So now I am actually saving more money using my Dell because I do not have to worry about the programs and software not working for the functions I need. I have not had any problems with the battery life nor have I had any technical issue which is a big plus. Now don't get me wrong my Mac has some Awesome programs that no other computers have so If I could take a little from my Mac and a little from my Dell and roll it up all into one, I would have one Incredible piece of technology.I do think in order to have a great review on a Laptop you need to have plenty of time to really use it so I will continue to give updates as needed to this review!Along with my review I want to give you some of the specifications etc:
* The Dell Inspirion 1525 comes in a range of fresh new coolers to choose from. My color choice of course would be the pink! 🙂
 Mobile Broadband Convenient built-in mobile broadband options, available through multiple service providers, give you high-speed connectivity wherever you have cell phone service.
 Dell Exclusive Wi-Fi Catcher A simple switch which helps you find a wireless network without even powering up your system.
 Bluetooth Securely connect your peripherals without cables.
 Wireless USB Connect wirelessly to USB-enabled devices.
Hi-Def LifeRe-define your hi-def life through an exceptional movie, multi-media and audio visual experience.
Dell MediaDirect

Enables one-button access to movies, calendar, contacts and presentations, without waiting for your operating system to start up.

Video Communications Pack

Chat with friends and family with the optional webcam (2MP), dual digital microphones and ear buds.

Other Multimedia Features

Dual Headphone jacks, smooth-touch multimedia media buttons and integrated IEEE 1394a make for a great multimedia experience.
I Also just found out that Dell announced today a partnership with Susan G. Komen for the Cure to raise money through Dell's new Promise Pink laptops and Minis for breast cancer research and community-based programs for breast health education and screening. Starting today, with every purchase of a Promise Pink laptop or Mini, Dell will donate $5.00 to Susan G. Komen for the Cure, the world's largest breast cancer organization. The partnership is part of Dell's continued commitment to community involvement.
You can read more about the partnership here!